Agriculture is one of the important sectors not just in India but in the whole world. This is especially true in an agrarian country like India where farmers are considered to be equal to God. Rightly so, because without farmers there would be no food to feed our growing population in the country. Almost every one of us would starve to death if the farming community stops their work. Undoubtedly, the farmer in India is the real backbone of our country.
The contribution of farmers in our everyday life and economy is huge. In order to honour the work that they put in to make sure that there is enough food for everyone in the country, December 23 is observed as the Kisan Diwas, or Farmers' Day in India. Further, the day also commemorates the birth anniversary of the 5th Prime Minister of India, Chaudhary Charan Singh. He had come up with many farmer-friendly policies and had also worked a lot for the welfare of farmers.
Chaudhary Charan Singh introduced several schemes for the farmers in his short stint as Prime Minister. He introduced pro-farmer bills like the Agricultural Produce Market Bill in the Assembly in 1939, served as the Agriculture minister in 1952, and abolished the zamindari system in 1953.
The farmers day observance is a programme to assess how important is the role of farmers in social and economic development of a country. They need to be helped in education, training in scientific farming, loan, storage and marketing of their produce and many more.
In Uttar Pradesh there are around 26 agriculture center where their farmers are thought about the farming activity and the new technology for the farming activities, and this makes the agriculture field more developed, so we should always inculcate the value farmers are very important in everyone life and the government should take the initiative to make the farmers and the agriculture site more importance as agriculture is the backbone of our country.
The Theme Of Celebration:
The theme of celebration indicates that by only developing & powering agricultural fields we gain a state of economic growth with rising more benefits and full employment. Kisan Diwas celebrations are normally filled with discussions, workshops, exhibitions, and other programs organised by the government and other organisations.
Kisan Diwas Significance
There are various reasons behind the observance of Kisan Diwas. The most common reason has to be to celebrate the farming community of India, which almost 70% of the country. It is important to note that despite being the most prominent means of life for so many people, not many are aware of the problems that farmers face. People remain ignorant about the necessary information about this sect of the country. Kisan Diwas celebrations work on educating people about these issues, and also focused on empowering the farmers themselves with the latest learnings of the agricultural sector.
Indian Farmers
In our agricultural country, most of our farmers are from rural areas. They can't be cultivating their land in scientific ways. In results fail to produce a lot of food or other agricultural products. Most of our farmers are leading a poor life. You know the farmers after paying their taxes, debts etc. they save only a few amounts of money which is not enough to maintain their livelihoods. They become debts due to many reasons like, unsuitable weather conditions, high costs farming essentials, low remuneration for their products and due to this we all have seen in many cases that due to tension or pressure farmers attempt to suicide.
Challenges Faced By Indian Farmers :
Unreliable Monsoon .
Lack of technology.
Irregular supply of electricity.
Lack of education.
How to Improve Indian Agriculture :
Planting trees on farms to increase the yield of crops.
Eliminating intermediaries and direct buying from farmers.
Requesting local government to provide facilities.
Irrigation Facilities.
Institutional Credit.
Proper Marketing Facilities.
Educate the farmers.
Donating to NGOs working for agriculture welfare.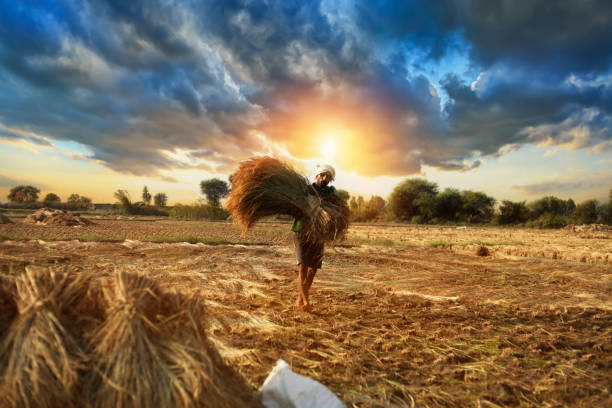 "Agriculture is our wisest pursuit because it will in the end contribute most to real wealth, good morals, and happiness."

– THOMAS JEFFERSON.
The best way to respect a Farmer is to respect his produce by not wasting it.
Thanks for reading..!🙏.